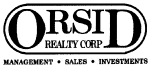 Board of Directors Meeting 875 WEA Apartment Corp June 20, 2012, 6-8:00 PM
Update on Projects:
Repair of Back Marble Stairs. The steps of floors lobby-4 have become worn and will be repaired.
Fire Escape Painting. The fire escape has become rusty and will be painted some time during the summer or early Fall.
Insertion of Water Back Flow Valve. The New York City Buildings Department is requiring the installation of these valves in all buildings. This work will require a water shutdown for one day.
875 West End Ave Website. Please visit the new website at: http://875westend.com. All sorts of useful information can be found at this site.
Annual Shareholder Meeting. Wednesday June 27th at 7 PM. Please attend. Please vote.
Mitchell Stein, Account Executive
Senior Financial Analyst, Orsid Realty Corp
310 Riverside Drive, New York, NY 10025
212-864-1700 | Fax 212-866-8709
www.orsidr.com