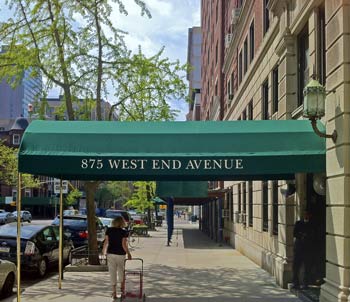 875 West End Apartments is located on the southwest corner of 103rd Street and West End Avenue. In an area now called "Manhattan Valley" or "Bloomingdale," we're just south of the Columbia campus and neighborhood. From here it's a block to the #1 subway and Broadway's M104 and M5 buses, and it's an easy stroll down to Riverside Park. The building has been a co-operative since 1979, and is currently managed by Orsid Realty Corporation.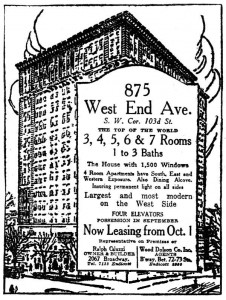 The brick and limestone building was designed by Rosario Candela. It was erected in 1923–1924, and features marble floors, stained glass windows and ornate ceilings and moldings in the lobby. An advertisement in The New York Times of September 7, 1924 called it "The House with 1,500 Windows," and boasted it was the "largest and most modern on the West Side."
Amenities include a full-time doorman, live-in superintendant, fitness room, community room, laundry facilities, locked bicycle storage room and general storage lockers for rent in the basement. The lobby and mailroom have been recently upgraded.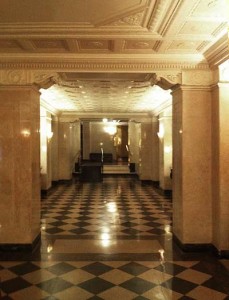 Along with James Edwin Ruthvin Carpenter, Rosario Candela was one of two leading architects of mid-size "luxury" multi-family buildings in the 1920's and '30's. They built so many — more than 125 — that they basically formed the essential character of Fifth and Park Avenues as they exist today. – Carter B. Horsley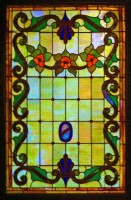 The classic detailing, the perfect proportions, the general layouts and floor plans, provide unparalleled character, comfort and style — recalling a bygone era when apartment living was
on a grand, refined scale.
– rosariocandela.com