Protecting Yourself, Elderly Family and Friends from Scams and Abuse, Thursday, October 18, 2012, 7 – 9 p.m.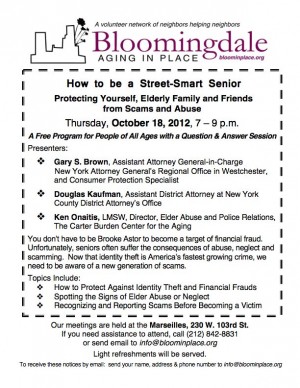 A Free Program for People of All Ages with a Question & Answer Session Presenters:
Gary S. Brown, Assistant Attorney General-in-Charge
New York Attorney General's Regional Office in Westchester, and Consumer Protection Specialist
Douglas Kaufman, Assistant District Attorney at New York County District Attorney's Office
Ken Onaitis, LMSW, Director, Elder Abuse and Police Relations, The Carter Burden Center for the Aging
You don't have to be Brooke Astor to become a target of financial fraud.
Our meetings are held at the Marseilles, 230 W. 103rd St. Unfortunately, seniors often suffer the consequences of abuse, neglect and scamming. Now that identity theft is America's fastest growing crime, we need to be aware of a new generation of scams.
Topics Include:
How to Protect Against Identity Theft and Financial Frauds
Spotting the Signs of Elder Abuse or Neglect
Recognizing and Reporting Scams Before Becoming a Victim
Our meetings are held at the Marseilles, 230 W. 103rd St. If you need assistance to attend, call (212) 842-8831, or send email to info@bloominplace.org
Light refreshments will be served.
To receive these notices by email: send your name, address & phone number to info@bloominplace.org